Why AbleBike.com
Welcome!
Thank you for visiting AbleBike.com, where you will find hub motor, ebike kit, electric bike, electric fat bike, electric enduro bike, wheelchair and related parts offered at incredible wholesale prices. But who are Rockliffeo?

Our Story:
AbleBike.com has been a professional manufacturer in selling hub motor, ebike kit, electric bike, electric fat bike, electric enduro bike, wheelchair and related parts since 2007. From the moment we founded Changzhou Able Electronic Technology Co., Ltd(AbleBike Company), our vision has been being to empower people worldwide in buying and selling online.
Whoever you are, and wherever you are, AbleBike offers the same price to all: the lowest possible. Whether you're a wholesaler looking to increase revenues, a retailer who refuses to pay the high prices in your country, or a shopper looking to get hold of the latest products, AbleBike.com provides light-speed service and wholesale prices. We are manufacturer to sell directly to the customers, so we can keep costs low while maintaining the highest of standards.
We serve customers from over 50 countries, and we're still growing. But our vision won't change: One world, one price.

Our Promise:
We promise the best consumer goods and the highest quality products.
Streamline the buying and payment process making it as easy as possible.
Deliver goods to our customers all over the world with speed and precision.
Provide 24 hour customer support on weekdays.

Our Name:
Everyone's familiar with the AbleBike, a popular hub motor, ebike kit, electric bike, electric fat bike and electric enduro bike, which plays a melody when cranked up before delivering a pleasant surprise at the end. In the same way, we strive to provide a AbleBike to all our customers: not only satisfying your needs and expectations, but exceeding them.

Professional Factory:
AbleBike.com is a leading professional factory for hub motor, electric bike kit, electric bike, electric fat bike, electric enduro bike, wheelchair, scooter and related parts for more than 10 years. We supply the high quality electric fat bike and electric enduro bike at wholesale prices. Start your wholesale sourcing here today and experience first class service and fast shipping.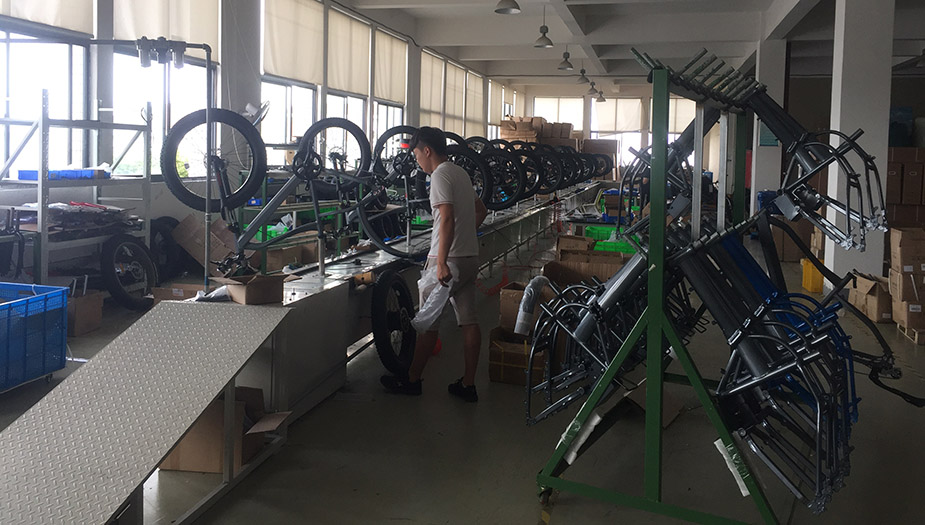 Minimum Quantity:
You can try our first class services by initially purchasing in small quantities. Most of our products not only can be purchased in single unit as a sample but also with the wholesale price.
How to Place Order?
Step1. Register
Open AbleBike.com and then check the top side to find the "Sign in" button to "create a new account" to register.
Step2. Log in
If you are already one of our members, just click "Sign in" button on the top of our home page.
Step3. Pick out what you prefer
You can find electric fat bike, electric enduro bike, electric hub motor kit, elctric bike, wheelchair, scooter or related parts on our website AbleBike.com easily or you can click "Contact us" to contact us to help you with your selection.
Step4. Add to cart
When you find electric fat bike, electric enduro bike or hub motor you want to order, you just need to click "Add to cart".
Sterp5. Confirm billing address and delivery address
There are summaries when you "Add to cart" to reconfirm all your order details, and then please confirm your address.
Step6. Choose delivery
You can choose EMS or TNT or DHL or UPS or FedEx to ship your order according to your event date. Or our service can help you find the best shipping method for your selection.
Step7. Pay
You can pay via credit card, bank T/T, wire transfer, western union, PayPal or Affirm.
Step8. Check confirmation in registered e-mail box
When your order placed successfully, please check your registered email to find your "Order Confirmation" email from us within 24 hours. If you do not get it, please email us immediately. It is very important!
Step9. Get agreement on all details
All orders must be confirmed within 5 days after we get full payment of your order, otherwise, our system will change your order status automatically to be "making your order" without any return, exchange and refund under any conditions only for already paid orders. Please consider this carefully and if you have any questions, please contact us without hesitation.
Step10. Production
We will send the products within 20 working days according to the confirmation email stated and will not accept any exchange, refund and return under any circumstances.
Step11. Ship
We will ship your order within 7-10 working days after finishing the production to recheck all your order details and shipping methods strictly according to the confirmation email. Besides, our customer service will send you tracking number when we ship the goods for you. It will make it easy to track it online in person and will also change your order status to be "shipped".





Shipping Cost:
1. Global flat shipping fee is different of every countires and order weight start from 10kgs for electric fat bike or electric enduro bike.
2. Free shipping is available for order electric fat bike, electric enduro bike or the products are marked.
3. Don't worry loss or damage. Shipping insurance is included for every order.

Tax:
1. AbleBike.com does not add any taxes, VAT, or other hidden charges. Buyers pay what they see on the order screen, i.e. goods subtotal + shipping cost.
2. In most countries, you have to pay taxes or duties on imported goods. Sometimes goods under a certain value, or in certain categories, do not incur taxes.
3. The rules are different in every country. Unfortunately, we do not know all the rules, regulations, customs, traditions, practices, loopholes, schemes, paperwork, codes, laws or rulings of every single country.
4.Normally, AbleBike.com shipping service partners including EMS, FedEx, UPS, TNT and DHL will pay the corresponding tax for the buyer in advance and post you a tax bill later than the date of the product receipt. Please follow the shipping company's instructions to pay back the tax.

Fast Delivery:
We deliver electric fat bike, electric enduro bike and hub motor from China by EMS, DHL, FedEx, UPS or TNT, ect. For common destinations like USA, Canada, Europe and Australia, it takes only 5-7 days.


Order Tracking:
AbleBike.com will provide order tracking numbers whenever the order status is changed into "Shipped" status. The shipping company's tracking number will be posted into every customer's account page. You will be notified by your registered email with this tracking number. Along with tracking number, customers will enter the shipping company's official website to check the shipping status of your package.

The following are some links of express companies:
DHL: http://www.dhl.com/en.html
EMS: http://www.ems.com.cn
TNT: http://www.tnt.com
FeDex: http://www.fedex.com
UPS: http://www.ups.com.cn


Shipping Policy:
We can ship electric fat bike, electric enduro bike, hub motor, ebike kit, e bike, wheelchair and related parts to any address in the world!!!
We will inform you with tracking No. by e-mail as soon as your order is shipped out when we get it from the express company. A detail and exactly address is required for delivery.
Merchandise will be delivered standard Air-express door to door, which takes approximately 5-7 working days. Delivery time do not include processing time.
Our products are shipped out every day, from Monday to Saturday, except holidays. Most orders placed on weekdays will be shipped in the same day, while orders placed on weekends will be shipped the following Monday. You will receive an e-mail confirmation with your tracking number. Twenty-four hours after you receive your tracking number, you will be able to track your order online.

Our Delivery:
AbleBike.com has built up solid partnership with all big five shipping companies: EMS, DHL, UPS, FEDEX and TNT to provide professional worldwide door-to-door delivery.

Delivery Time:
Items will be shipped out in the following business days after you have checked out. In general, it may take about 5-7 business days for delivery, depending on the different delivery ways you select. We are not responsible for wrong or undeliverable address. Please make sure your shipping address is correct and deliverable.

Return Policy:
We offer a guaranty for un-conditional refundment within 7 days, but return freight borne by the buyer.


Security:
Security is at top priority at AbleBike.com. We ensure the integrity and encryption of the date of every transaction by applying the most advanced security solution provider.

Buyer Protection:
We always think that customer and quality are the first two important facts, we keep on protecting the buyer's profit when the hub motor, ebike kit, electric bike, electric fat bike, electric enduro bike, wheelchair and related parts with any problems, just take some pictures or video for us for checking, and we will give you solutions. If the hub motor, ebike kit, electric bike, electric fat bike, electric enduro bike, wheelchair or related parts you bought can not be used longer, we will send you a new one for replacing when it's not because man-made damage during the warranty period.

Our Guarantee:
All hub motor, ebike kit, electric bike, electric fat bike, electric enduro bike, wheelchair, scooter and related parts bought from us are guaranteed for 12 months. If quality problem happened during guarantee period, we provide technical support and hear feedback from the user and help him deal with the problem in time. If you are caught in some problems when using our products, please contact us freely.
A: The cost because of quality problem during guarantee period borne by us.
B: The cost due to improper using or natural environment caused problem during guarantee period borne by the user, but we should provide materials and accessories for relacement and shipping to the user in time.

Note: The following situation cannot enjoy our exchange commitment:
1. the product was not normal use;
2. abnormal conditions storage;
3. unauthorized repair, misuse, abuse and change;
4. products of the normal wear and tear;
5. beyond the guarantee period.

Product Review:
AbleBike provides an open products review place for customers and visitors to leave your personalized comment for AbleBike.com products. If you brought electric fat bike, electric enduro bike, hub motor, ebike kit, electric bike, wheelchair or related parts from our website, you are so welcomed to leave your impression or feeling of the products you received. If you are only browsing the products in AbleBike.com, you are also welcomed to leave your suggestions or feedbacks about electric fat bike, electric enduro bike, hub motor, ebike kit, electric bike, wheelchair or related parts in the customer review area.